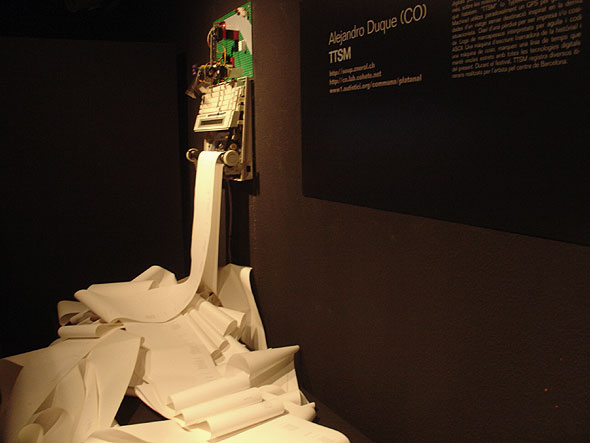 So i had the chance to use some of the soup developments again! This time in conjunction with the arduino board, some 4 servos, an old typewriter and the awkward idea of re-creating a tracklog that comes from digital realms straight to the inprint of ink and paper..the old analogic way..using a typewriter.. huh?? might be nostalgia but consider it an attempt on "dadataism", to cure my "archival fever" (see Derrida's book).
Check the pictures kindly shot by few of the many persons that came to the Sonar festival in Barcelona: http://soup.znerol.ch/site/en/image/tid/4 At the end, a 200 meter roll of fax paper evolved into mountain of little characters representing derives in the streets of barcelona.
Credits for the pictures go to Karen Gaskill from whom I hope to get a little video clip to hang along her nice image, Thanks Karen! (www.interval.org.uk). Other pics from Paulo Correa, Duvi Abril, Ian Smallwood.